With so much time and money spent planning your wedding and choosing that perfect wedding dress for the biggest night of your life, it is no surprise that most brides want to make sure their dress is in perfect condition before and even after the wedding.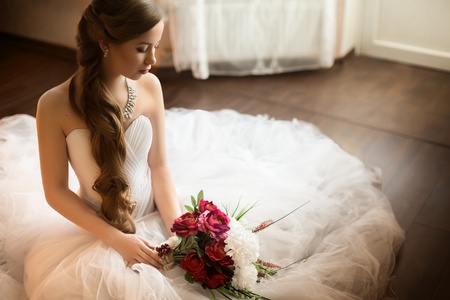 A wedding dress is likely the most expensive dress you will buy in your life. On top of that, you will be wearing it on the most important night of your life in front of all your family and friends. Unlike other dresses you may own, wedding dresses are usually much more delicate and, since the majority of them are white, are more prone to having noticeable stains or dirt appear on them, something you definitely do not want to happen before your big day. Even after the wedding is finished, it is likely that you will want to hold onto your beloved wedding dress to keep it as a memory of your special night or possibly to pass it down to a family member.
In this article you will find some tips on how to make sure that your wedding dress is in perfect condition for your big night and tips on wedding dress preservation to keep it looking as beautiful as it did on your wedding night.
Wedding Dress Care Tips Prior to the Wedding
Leading up to your wedding day you will have invites to send out, immense amounts of planning and many other distractions keeping your mind very occupied. With so many things on your mind, it can be easy to forget something so simple as making sure your wedding dress is in perfect condition. To keep it in its best shape there are some important factors to consider that, although they seem trivial, often go overlooked.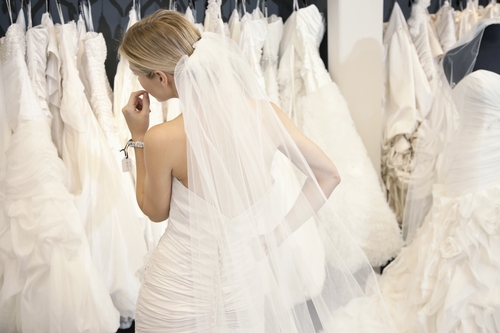 Storing Your Wedding Gown Prior to the Wedding
Whether you pick up your wedding dress the day before, or several weeks before your wedding, your wedding gown will need to be stored in your home under your supervision. Many brides often overlook this important step thinking that it can be stored like most other expensive dresses only to find out that they have done noticeable damage to the dress just days before the wedding. Here are some tips to make sure that your dress does not get damaged in any way when storing it prior to your big day:
Only store your wedding gown in an area of the house that has a relatively consistent temperature and humidity level. This will significantly minimize the risk of your weddings gowns fabric to get damaged.

Never hang your wedding dress from the shoulder straps as this can cause irreversible damage by stretching the straps. Instead, use the more sturdy loops located on the inside of the wedding gown.

Don't store your wedding gown, or any other white garment for that matter, in a plastic garment bag as these bags emit fumes that can cause yellow stains on white fabrics.

Don't store your wedding dress in a sealed container as these containers often trap moisture which can ruin the fabric of your dress.

Use a clean bed sheet to protect your wedding dress from dirt and dust in the home.
Your Wedding Gown on the Big Day
Assuming that everything went well with your wedding gown leading up to the wedding, all you have left is some simple steps to make sure that your dress looks perfectly clean and pressed for the moment you are walking down the aisle and all eyes are on you. Although dressing yourself is usually a simple task which you do subconsciously, putting on a wedding gown without creating any wrinkles is a bit more difficult. Follow these steps to keep your dress looking perfect: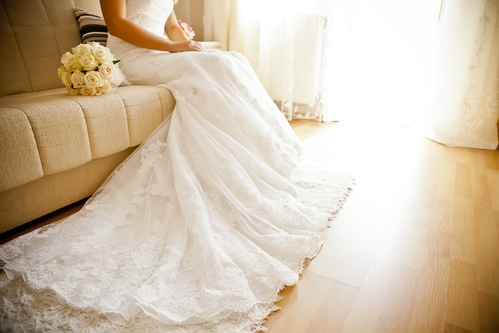 As usual, put on all of your undergarments first, including your shoes because it can be very tough to find your feet with so much material surrounding them.

With the help of your bridesmaids, slide your wedding dress over your head with your hands above your head to prevent wrinkles.

Once your dress and veil are on, proceed to putting on any jewelry. Do not put on your jewelry first as it can get caught on the fabric of your dress when putting it on.

Only sit on chairs without a backrest and try to avoid placing your hands in your lap as this will cause wrinkles in your wedding gown.
Wedding Dress Preservation Tips
Now that the wedding is over and you managed to keep your wedding dress relatively clean after a crazy party, what do you do with the most expensive dress you've ever purchased? Whether you want to keep your dress for purely nostalgic reasons or plan on passing it down to a loved one to wear on their big day in the future, preserving your wedding dress in great condition is a tough task all on its own.
Your best bet to preserve your wedding dress is taking it to a professional dress cleaner and preservationist such as www.loveyourdress.ca. These professional companies will carefully clean your dress of any stains that it may have accumulated during your wedding party, especially the invisible ones like sugar stains which will turn brown with time if not treated properly.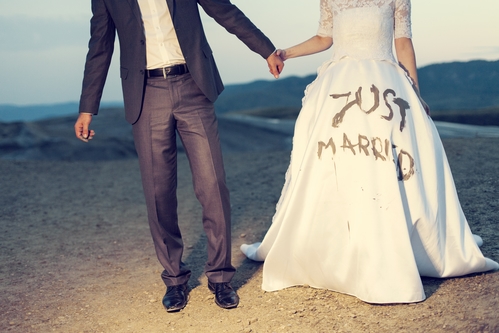 After the dress has been cleaned of all stains and looks like it did before your big day, the preservationist will package the dress in a wedding dress preservation box. These boxes are specially designed to have a neutral pH level and sealed tight with no moisture inside to preserve the dress for years to come. They also often come with a clear side which allows you to see the dress without actually opening the box to ensure that the internal conditions are not compromised. Using a preservation specialist is highly recommended to keep your dress looking in tip top shape.