Choosing Leather Shoes for Men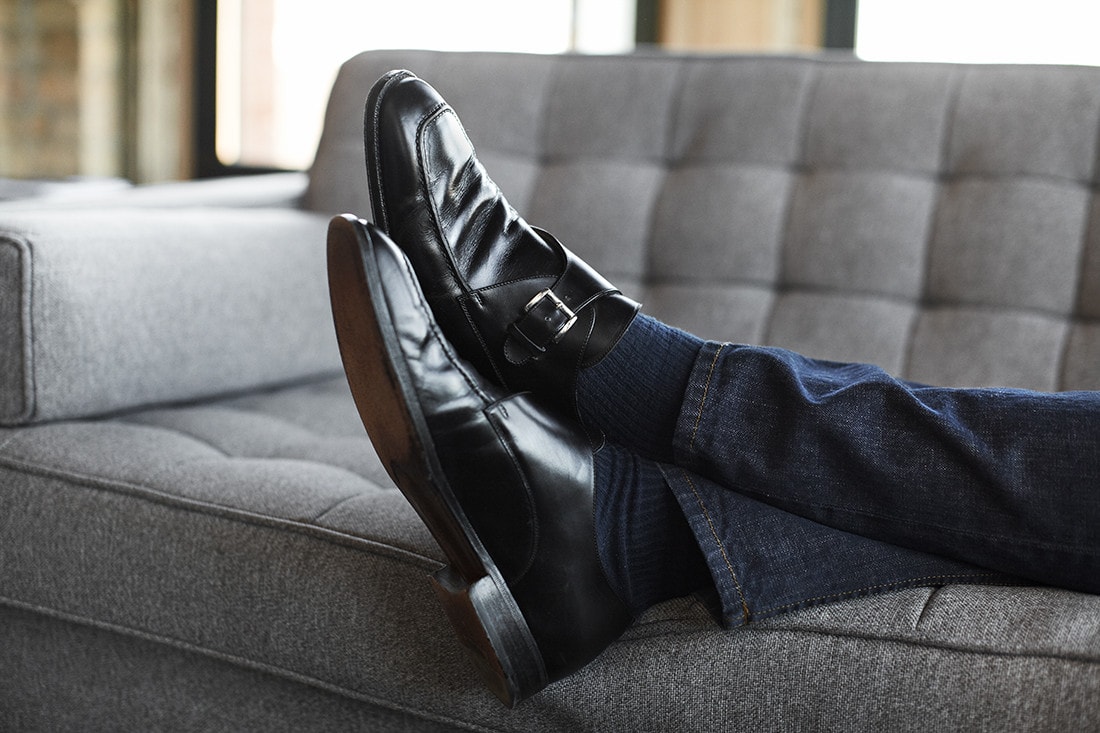 Choosing leather shoes for men can be a very involved process.
For instance, conventional wisdom says that men need to wear shoes to match their belt; however, the rest of the outfit and the environment must be taken into consideration, as well.
If you are choosing leather shoes for yourself, several factors should be considered:
Will these shoes be worn casually or formally?
Do you prefer a lace-up shoe or one that slides on?
Do you prefer black or brown leather shoes?
A high quality pair of leather shoes for men will generally cost $300 or more, so it is important to have a clear understanding of what you want before shopping.
* Tip: Leather shoes do tend to get dirty and damaged from being stepped on or scraped against concrete; therefore, we would like to advise that if you own a pair of expensive leather shoes that are dirty or damaged, you do not necessarily have to buy a new pair. Professional leather shoe cleaners can do a darn good job of restoring worn out leather shoes for a very reasonable price. If you are in Toronto and would like your valuable leather shoes to be cleaned professionally check out leather shoe cleaning by Love Your Shoes. They are experts at boot and shoe cleaning and restorations.
To begin, let's review different styles of leather shoes for men. After choosing a style, we can then explore appropriate colour choices in more detail.
Different Leather Shoe Styles
It is important to note that although each of the styles listed below can be made with leather, it is not always the case. The objective here is to identify your preferred style of shoe.
Oxfords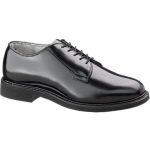 Choosing leather shoes in an Oxford style means selecting footwear with very few frills or embellishments. These are a popular choice because their simplistic and classic appearance is appropriate for numerous occasions and settings.
Oxfords are characterized by their low instep, closed lacing, and non-rubber sole. They are most often paired with suits, or a dress shirt and trousers.
For everyday wear to the office or contemporary events, Oxfords in a cognac brown colour would be an excellent choice.
If you intend to wear Oxfords to a more formal event, choosing leather shoes in a more traditional black would be best. Consider Oxfords with highly polished, shiny finish, as well.
Loafers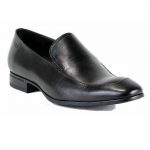 Loafers are perhaps best known for their total lack of laces and buckles. They are designed as slip-on shoes with a wide, flat heel.
Commonly thought of as a dressy sport shoe, loafers are a popular choice at yacht clubs.
Some dressier loafers have tassels, but more modern and casual styles generally do not.
Older styles of loafers were designed with a strap across the top of the leather shoe, such that it could hold change or another small item. This is where the term 'penny loafer' originated.
Cap Toes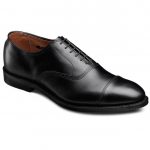 Some consider cap toes to simply be decorated Oxfords. Although numerous frills or embellishments can be used to make a leather shoe more unique, cap toes on Oxfords are the most common.
While Oxfords are well known for their simplistic style, cap toe shoes are considered to be more formal largely because of their additional decoration.
What defines a cap toe leather shoe is the band of leather over the toe, which helps to explain how its name originated.
Dress Boots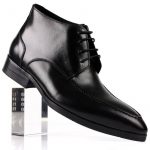 To be clear, when choosing leather shoes, boots are an option.
That said, dress boots are generally only ankle-length – certainly not the same dimensions as a traditional work boot or snow boot.
Dress boots are most often kept well-polished and are sometimes decorated with perforations in a wing-tip pattern.
Dark jeans, a casual suit, or a pair of trousers would pair well with dress boots. In fact, most men wear dress boots only in a casual or semi-formal setting.
Monk Strap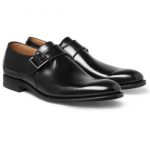 Monk strap shoes are similar to loafers in the sense that they have no laces; however, a leather strap is placed across the upper portion of the shoe. This is more for decoration or embellishment than any functional purpose.
The leather strap is connected to a clasp or a metallic buckle that appears to keep the shoe fastened.
Because of the additional hardware on this style of shoe, they are to be worn in a slightly more casual setting.
You Have Colour Choices
Once you have decided on a shoe style, the question becomes what colour you would prefer to wear. Leather shoes for men are available in a wide range of colours, including,
black,
cordovan,
brown,
burgundy,
oxblood,
chestnut, and occasionally,
white.
To simplify your choices, we are going to focus on two main groups of colours – black and brown.
Choosing Leather Shoes in Black
When most men think of a traditional leather shoe, black instantly comes to mind.
Black leather shoes for men are generally worn in a more formal setting, although that is not always the case.
A good rule of thumb is to consider the level of shine. More formal black leather shoes for men generally showcase a greater shine, lustre, polish, or brilliance.
On the other hand, black leather shoes for men that would be well-suited for more casual, semi-formal, or everyday office wear tend to have more of a matte finish.
Choosing Leather Shoes in Brown
When men are choosing leather shoes in brown, a common question arises:
Which colour of brown is best?
The truth is, one is not better than the other. But as we are about to review, brown covers a fairly broad range of possibilities when it comes to selecting leather shoes for men.
If you decide to purchase shoes in brown, the shade you select will mostly depend upon the attire you intend to adorn and the environment in which they will be worn.
Here are four of the most popular shades of brown:
Cognac Brown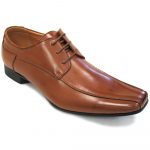 Sometimes referred to as tan or walnut brown, cognac brown can vary somewhat.
Of all the shades of brown listed here, it is the most likely to catch attention and is best worn with a sharp-looking outfit. This may include dark jeans, charcoal trousers, or even olive chinos.
Classic Brown
For a more formal look, consider going a shade darker with a more traditional leather choice. This shade of leather shoes for men is sometimes referred to as medium brown.
Choosing leather shoes in classic brown sometimes means the finish will contains hints of brown or black for a gradient appearance. This is known as brown burnished.
The idea behind finishing a leather shoe with a brown burnished appearance is to give it a more antiquated, worn, and traditional look – especially at the heel and toe.
Dark Brown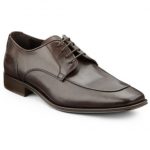 Often referred to as brown-black, this shade of brown can be confused for black when seen in dark areas.
If shades of brown leather shoes for men were to be measured on a scale ranging from casual to formal, dark brown favours a more dressy ensemble.
Red-Brown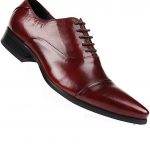 Red-brown leather shoes for men are sometimes considered burgundy depending upon the exact shade. The red tones can also be more pronounced depending upon the lighting.
Compared to the three previous brown shades described, choosing leather shoes in red-brown can be tougher to match with clothing. In most cases, charcoal or dark navy trousers should suffice. A muted khaki would work, too.
Which Leather Shoes for Men Are Your Favourites?
Whatever your preference, leather shoes for men are intended to be an investment and a unique preference that varies depending on each man.
While there are less expensive synthetic alternatives available, nothing beats the sense of style, comfort, and design associated with a well-crafted pair of leather shoes.
Some questions to ask yourself that will help determine which shoes to choose:
Do you prefer a loafer in cognac brown?
Or perhaps you prefer an Oxford in matte black?
And no matter which combination you choose, how do you style your look?
Where do you plan to wear your leather shoes?